Simple Blues Bass Lick That You Can Re-use
 In this lesson, you're going to learn a neat blues bass lick that you can re-use – I call it the Texas Bluff.
This lick is great for beginner bass players, just throw it into your blues vocabulary.
You can rely on it later in those scrunchy situations when jamming with a friend guitarist – those jams somehow always turn into blues.
This lick will work over standard 8-bar or 12-bar blues chord progressions in any key. It's designed so that you can easily move it around the fretboard.
This lick uses notes from the Mixolydian scale to outline the Dominant 7 chords sound in the backing track.
Texas Bluff Lick

The backing track for practice is included in the free lesson resources package.
Action Step 1:
Learn the lick above and then practice it until you can play it comfortably in time with a backing track or metronome.
In the example above, the lick is played over A7 chord.
To fit the chord, notice how the lick starts on the root note A located on the 5th fret of low E string.
Action Step 2:
Learning isolated licks like this is not really useful unless you get to use the lick in a real musical situation.
Therefore it is important to learn how to re-use this lick over different chords.
To play this lick over different chords, you just need to make sure that you start the lick on the root note of the chord played in the backing track.
This means that all the distances between notes and shapes stay the same, you just start to play it on a different part of the bass fretboard.
This lick will work perfectly over dominant 7 chords like D7, A7, E7.
When you see a chord like that,  you can just pull off this lick and it should sound good.
Texas Bluff 12 Bar Blues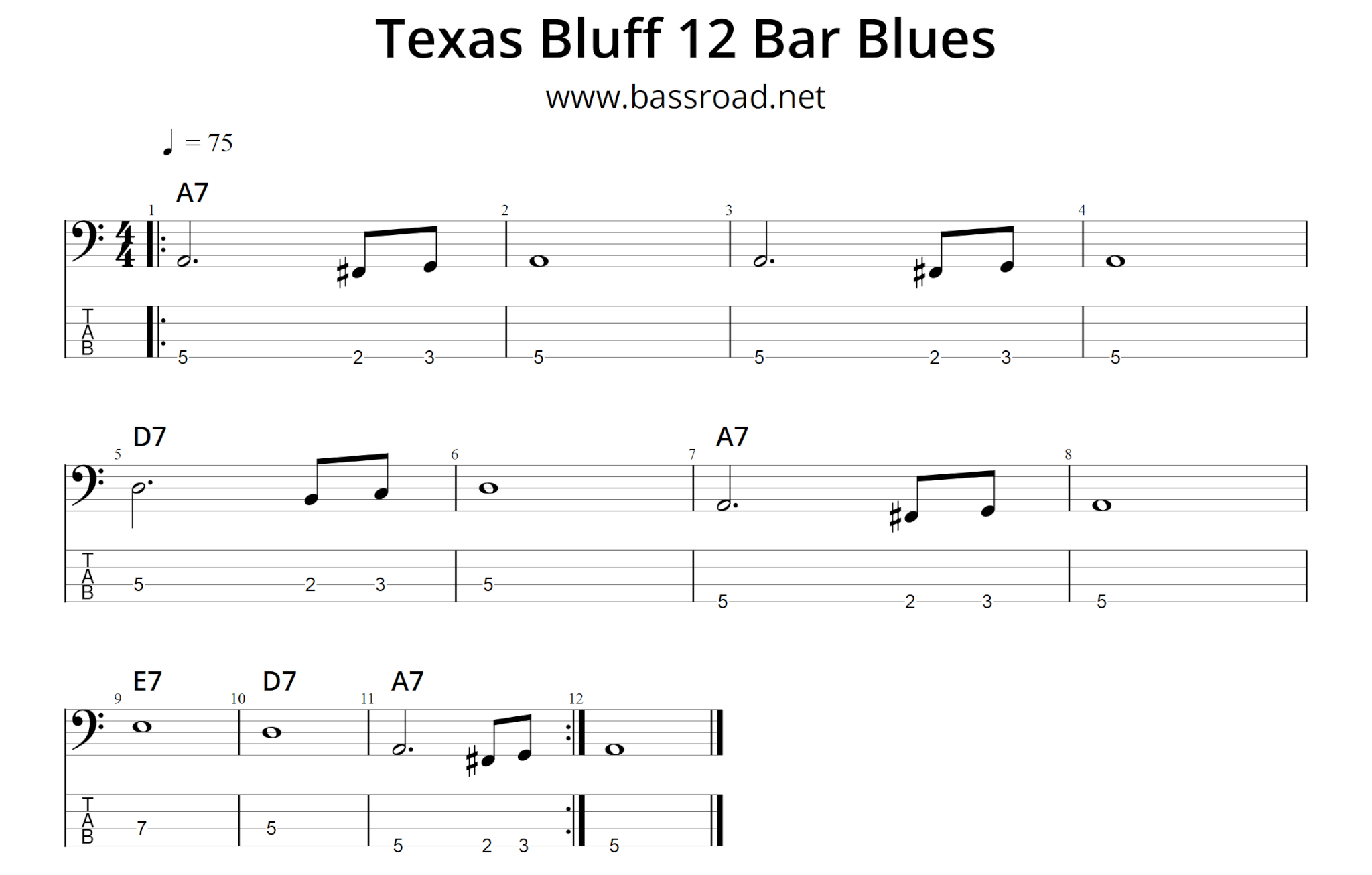 In this example 12 bar blues jam, I'm exclusively using the Texas Bluff lick and moving it around to outline chord changes.
Follow the root note of each chord in the backing track and start playing the lick there to outline it. Use the practice backing track to get comfortable playing this blues jam in A.
The backing track for practice is included in the free lesson resources package.
Handy Resources For Download
To help you learn and practice the lick covered in this lesson, I've created a handy free package that includes PDF that summarizes everything in this lesson PLUS you get practice backing tracks so that you can play them on your computer or living room audio system and improvise over.
DOWNLOAD LESSON RESOURCES PACK
Practice Task: improvise a blues line over the supplied backing track using the lick you just learned and moving it around the fretboard to start on different root notes depending on the chord in the backing track.
Conclusion
When you're learning licks on bass, always make sure that you understand how it fits actual music.
There is really no point in learning any lick if you're not going to re-use it in actual musical situations.
When learning licks, your goal should be to internalize the idea and then apply it to your own playing.
You can then play licks you learn note-for-note with your band, when composing your songs – you name it!
It's a common misconception that licks are just for practice and that you should only play stuff you come up with on your own when jamming or composing songs.
This is totally not true.
Take this lick you just learned. I came up with it myself while jamming over the backing track, but in reality, I'm sure this kind of exact bass lick/musical idea has been used in hundreds of songs out there.
…and that's fine!
I'll always go for proven ideas and lines when jamming, in the studio or performing live with a band.
That's what bass is all about and remember – simple is always better!
Learn How To Play Blues Bass From Scratch
If you want to get started with blues bass from scratch, check out my Blues Bass – Quick Start Guide course.
It's a fantastic course to go through if you'd like to get into blues, but don't know where to start.
The course is completely beginner-friendly, it will equip you with licks and strategies you can be sure will work every time:
Go here to get more information and enroll>>
Suggested Bass Courses
If you're serious about bass and would enjoy step-by-step online bass lessons and courses, then I strongly suggest checking out how Bass Road Academy online bass courses can help you get results.
Hope you'll find this lick useful.
Do you like my teaching style and you're a beginner or intermediate player?
I'd like to invite you to join my Bass Road online instructional website where you get access to step-by-step courses and materials that will help you become a better and more musical bass player.
Go to this link to learn more>>
Keep grooving,
Bogdan
Founder, Bass Road
Want to get better at playing bass and make steady progress?
Level up your bass skills with online bass courses and lesson series at Bass Road Academy. 
Learn why behind the bass lines you play, have a strategy when improvising and make progress faster.