Learn Walking Bass Improvisation SECRETS in 4 weeks
"The truth is – when you master walking bass, not only can you jam along with ANY jazz standard, but you UNLOCK improvisation skills for everything you play."
Imagine that you know exactly which note you can play over which chord – so you can just improvise walking bass lines right there on the spot.
The question you should be asking yourself is NOT: "Can I play walking bass?"
…rather "How can I?"
This course will show you exactly how.




All prices in US Dollars. Secure payment via PayPal.
Online Course Details:
Course start: Saturday, 11th of July 2020
Course end: Sunday, 9th of August 2020
Bonus: Lifetime Access to Course Materials!
Cost: $50 $19 USD One Time Fee (Limited Time Offer)
Hurry! Enrolments close Friday 10th of July 2020
Read on for more details about this online program…
Here's what you'll learn exactly:
Simple ideas and strategies that you can apply immediately

Theory related concepts such as intervals that you have to know in order to enjoy walking bass
How to approach walking bass improvisation over different chords and progressions
How to play 2 and 4 feel walking bass rhythm
How to successfully outline chord changes using chord tones only
Use dynamics effectively for more convincing performance and timbre
Ways to get more out of your lines and improvise using cell ideas for more creative lines
Be able to approach any standard chord progression and improvise solid sounding walking bass lines without even practicing the song – improvisation right there on the spot in realtime.
…and most importantly:
Get in the walking bass mindset that will change the way you approach improvisation and composing on bass in any style of music!
How it works:
At the start of each week of this month long program you'll get access to new chapters with lessons you need to practice to develop your walking bass skills.
Each lesson is easy to follow and features a high-quality video with clear instructions as well as added captions.
Lessons come with on screen and/or printable TABs in PDF and Guitar Pro format, as well as any relevant learning aids such as diagrams, practice backing tracks and other media.
Special benefit: you'll be able to ask me questions directly and get feedback on your playing and assignment submissions. I'll be answering all questions promptly on a daily basis.
Bonus: after the initial 4 weeks of the course, you'll get lifetime access to course materials. 
Cost:
 

$50

 

Only $19 One Time Fee! (Limited Time Offer)




All prices in US Dollars. Secure payment via PayPal.
Here's what my students have to say ABOUT THIS COURSE:





Meet Your Instructor
Bogdan has been teaching bass guitar online since 2007 and has worked with 1000+ of online students over the years. His preferred teaching style are personalized video courses on focused topics that effortlessly guide students from point A to B giving them instant gratification at the end of each lesson.
Bogdan is also a published artist, songwriter, and producer with more 300+ live shows with various bands behind him. This experience from live gigs is what has defined him as a musician. His favorite bass guitar is a Fender American Jazz Bass deluxe and his favorite bass players are Paul McCartney, Victor Wooten and Flea from the Red Hot Chili Peppers.
Bogdan has almost a million views on Youtube and more than 1000 subscribers.
He has a strong passion for teaching others in a down-to-earth kind of way as he enjoys sharing tips and tricks as well as shortcuts and other revelations he has come to over the years of studying the instrument. His motto is "everyone needs to have fun while practicing" and his lessons always include musical examples and backing tracks students can have fun with.
His special skills involve teaching beginners in an understandable way as well as helping intermediate players cross to the next level.
Last but not least – Bogdan strongly believes that ANYONE can learn how to PLAY THE BASS. If you think you are not "talented", that you don't have "the groove" or that you don't have a "musical ear" – just give him a chance to prove YOU wrong!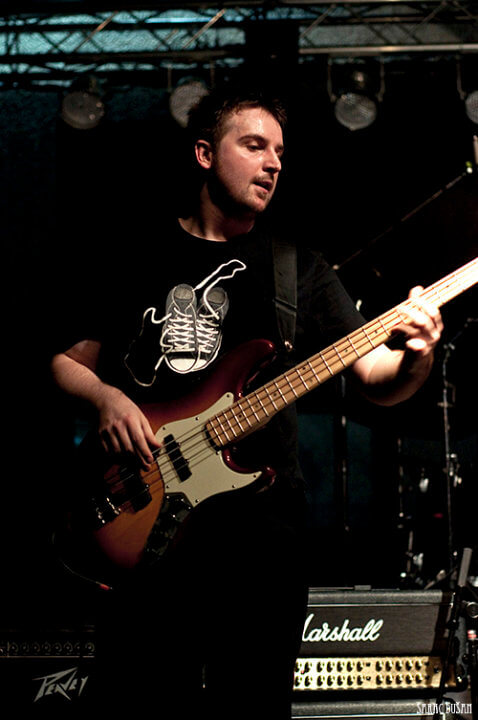 This is your chance to learn walking bass in 4 weeks – here are the lessons you'll go through:
Week 1: Basics and root & 5th improvisation
Learn what's a root note
You'll learn a 2 feel walking bass rhythm
Learn basic theory concept of intervals in music
What is and how to play a perfect 5th interval on bass
Essential root and 5th improvisation approach
2 Feel Walking Bass Line Example Tune
Practice improvisation over provided backing track
Week 2: Walking Bass Improvisation using chord tones
Learn how to play major and minor 3rd intervals on bass
Hands-0n strategies for improvising walking bass lines using chord tones
Learn several practice tunes and improvise your own lines over backing tracks
Week 3: 4 Feel Walking Bass Rhythm and Extension Notes
Learn how to play the 4 feel rhythm
Spice up your walking bass lines using 7ths
Put everything together that you learned to form creative 4 feel walking bass lines
Learn several practice tune examples and get to compose your own versions
Week 4: Putting It All Together
Learn how to make all the elements work in a seamless walking bass strategy
Dive into dynamics and expression tools in walking bass
Learn how to approach composing your own walking bas lines
Get tons of improvisation experience over various backing tracks and chord progressions
Frequently Asked Questions
You have questions? Sure, let me answer them for you…
Why am I charging only $19?
I want you to get a great value and give you that extra motivation to start learning walking bass. After all – it's only $19, so I wanted to make a no-brainer decision for you. Also, I'm sure you'll be interesting it taking further training in my Bass Road Academy once you see the results we can achieve together!
I'm a beginner, can I join? Is the course still relevant for more advanced levels too?
Sure thing! Materials inside this course are all beginner-friendly and feature teaching with no prerequisites really. You'll just need to have a very basic understanding of how to find certain notes on the fretboard (usually just in most often used positions on the neck) and be able to play quarter notes steadily and you're good to go! These fundamental walking bass concepts are relevant for any level of playing. If you're more advanced player just ask yourself: "Can I play walking bass?", "Am I happy with my current walking bass improvisation skills?". If you're not very confident – then this course is for you.
Are there any fixed times when I need to attend the lessons?
All the lessons are pre-recorded and are published on a weekly basis. Each week a new set of chapters and lessons will be unlocked inside the course. You can practice whenever you like, at any time of the day that suits you. You'll have lifetime access to course materials. Lessons are accessible via online streaming and work on any internet device you own – computer, tablet or smartphone.
How much practice time do I need?
I'd recommend allocating at least 20 minutes per day, 5 days a week of practice time to really sink into the materials and get guaranteed results.
What if I get stuck?
No problem, this is why you can ask me questions directly inside the course and get prompt help and assistance.
Do I need to know theory and how to read music?
This course requires absolutely no prior theory knowledge. You also don't need to be able to read standard music notation, but you do need to be comfortable reading TABs.
How can I get support?
For any questions, you might have about your account or just about getting around the site email support@bassroad.net to get assistance. If you need help with playing bass, you can ask questions in the special dedicated sections found inside every lesson on the site. As mentioned before, you'll get priority support from me.
If you have any other concerns that you'll like to raise with me that I forgot to mention, then please contact me at support@bassroad.net and I'll do my best to help you out.




All prices in US Dollars. Secure payment via PayPal.
Online Course Details:
Course start: Saturday, 11th of July 2020
Course end: Sunday, 9th of August 2020
Bonus: Lifetime Access to Course Materials
Cost: $50 $19 USD One Time Fee (Limited Time Offer)
Hurry! Enrolments close Friday 10th of July 2020
Read on for more details about this online program…
© Bass Road 2020. Owned by English Lane.