The Best Gift Ideas for Bass Players
With holidays just around the corner, I wanted to take a moment to help all you wives and girlfriends finally get a proper gift for a bass player that he'll love (LOL I hope my wife is reading this!).
Imagine a surprise on his face when he finds out you got him something so unique and useful for bass.
Oh dear – I can tell you he doesn't see that one coming!
To give you a perspective – I'm a pro bass player so this is not just some random list you'll find online. This is a list of some of the more unique gifts ideas for bassists that you could pull of even if you know nothing about music or playing bass.
The list is in no particular order, but if you're unsure about ordering stuff online (or worried it won't arrive in time) skip to the last item on this page as that is my safest gift recommendation which is also a digital product so you get instant access to it which is so handy.
Gifts you should think of getting for your hubby/boyfriend this holiday season:
Silent Switch Bass Cable
I bet he doesn't have this cable and will be thrilled to try it out. Not only cables are highly useful and you always need a spare one, but this one comes with extra features that will surely come as a surprise and put a grin on his face. They are SILENT, so no more loud pops when he forgets to turn down the amp while unplugging the cable.
What I like about it:
The plug that goes into bass input is at 90 degrees + that's a big plus on convenience
It's silent! The worst nightmare for any bass players is when they need to unplug their cable from the bass while having the amplifier turned all the way up. There's a loud POP sound that happens and a cringe on the bass player's face. It's so uncomfortable to go through this. No more with going through that ordeal as this cable has a silent plug that should prevent this from happening. So handy!
The length is perfect. It works both for gigs and practice at home. Nothing more annoying than a short cable.
Neutrik jacks – high quality and reliable stuff
Where to get it? Click on the link below:
18 Foot – Audioblast HQ-1 – Ultra Flexible – Dual Shielded (100%) – Guitar Bass Instrument Cable
Wall Mount With Auto-Locking Tabs
I can tell you that any bass player would love to have a wall mount for his bass. Keeping bass in a case that it came in is not really practical. Here's why: it takes an effort to get the bass out to play it. Also, the huge bass case takes a lot of storage space. This is why it's a perfect gift to get a wall hanger. The bass player can then just have his bass up there on the wall (saving space) plus it's so accessible whenever he wants to play it. This will inspire him to play the bass more and overall this is a practicality item you can't go wrong with (if he doesn't have it already).
What I like about it:
It's easy to mount
Keeps the bass in hands reach at all times
It's safe due to extra protective tabs
Looks neat with a wooden base
Where to get it? Click on the link below:
Guitar Hanger Wall Mount Stand with Auto Lock Tabs
New Bass Strings
First of all – nothing feels better than having a new set of strings on bass. This new-strings-tone lasts for only a first few days/a week at best and oh boy is it a joy to hear. Then strings die and are no longer so zingy and cool sounding.
If you're not a musician you'd be scared to buy this kind of gift and I get it – feels like you can go wrong, after all so many strings and types out there? The thing with bass players is that we don't really change strings so often. It can take anywhere from several months to even years since we last changed strings. Simply because bass strings are thick so they don't break so often (if ever!). Also, bass strings are expensive compared to guitar strings for example.
I'd like to help you get a new set of strings for your bass player in such a way that you don't make a mistake.
First of all, take a peek at the bass: does it have 4 strings? If so, you're good to go.
If he's playing mostly rock, jazz, country or anything else than metal and extreme genres – you'd 90% be fine with the choice I'm about to suggest.
The most standard strings you can get are Ernie Ball – Hybrid Slinky Round Wound Bass Strings. These are for a 4 string electric bass guitar. What's cool with these strings is that they are a hybrid set, so pretty much cover the vast majority of bass players out there when it comes to the preferred gauge of the strings. Even if they are not exactly the same, rarely a bass player would dislike these and chances are he'll dig them.
What I like about this gift:
Strings set is very universal, fits almost all 4-string bass guitars
Strings gauge feels very balanced
A great tone
It's a two-pack meaning being able to change them more frequently (hello new strings tone!)
Where to get these strings? Click on the link below for a nice 2-pack set:
Ernie Ball 2833 Hybrid Slinky Round Wound Bass Strings 2 Pack
Clip-On Bass Tuner
This is a gadget every bass player would love to get and will use all the time. It's a tuner device that clips on right to the headstock of the bass and allows for tuning the instrument. Bass players tune their bass each time they are about to play so this one will not be gathering dust.
As it's a clip on tuner, it allows for tuning in complete silence or ultimate noise (such as at gigs).
This is a high quality tuner from a famous brand so it's a great idea as a gift for a bass player.
What I like about this gift:
It's a gadget for bass players, enough said!
Crazy handy and will be used all the time
Small and fits nicely in a gig-bag
You can tune in complete silence
Where to get this gadget? Click on the link below:
TC Electronic PolyTune Clip
Online Bass Lessons Subscription (Digital Gift)
This is probably the most useful gift to get for a bass player, one that you simply can't go wrong with.
Okay, I can hear you saying: but if I get him lessons, he'll think I think he needs lessons. To be honest I don't know any bass player or musician who would not appreciate the gift of bass instruction and be offended by such a gift. This is an engaging gift that's good for a full year (I suggest getting an annual subscription to online lessons service). It's probably the best thing you can choose, as we all need a bit of push to pick up and play that bass every day. Especially if bass playing is just a hobby, we need a place to hang out and get motivated by engaging practice materials to get to that next level.
Have in mind this: once we do make progress on bass, we are forever grateful to those who helped us get there.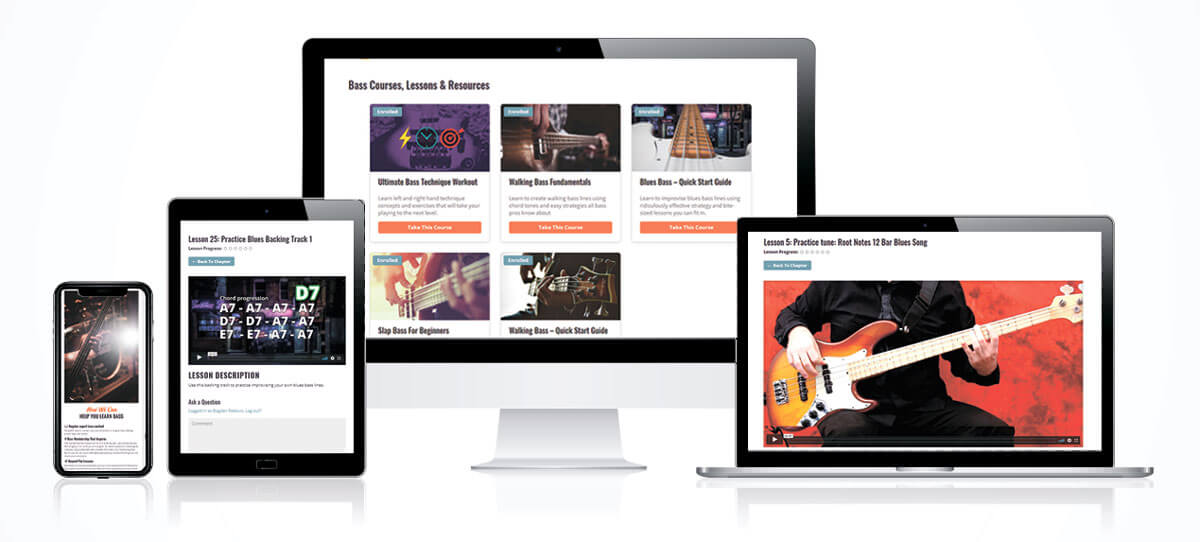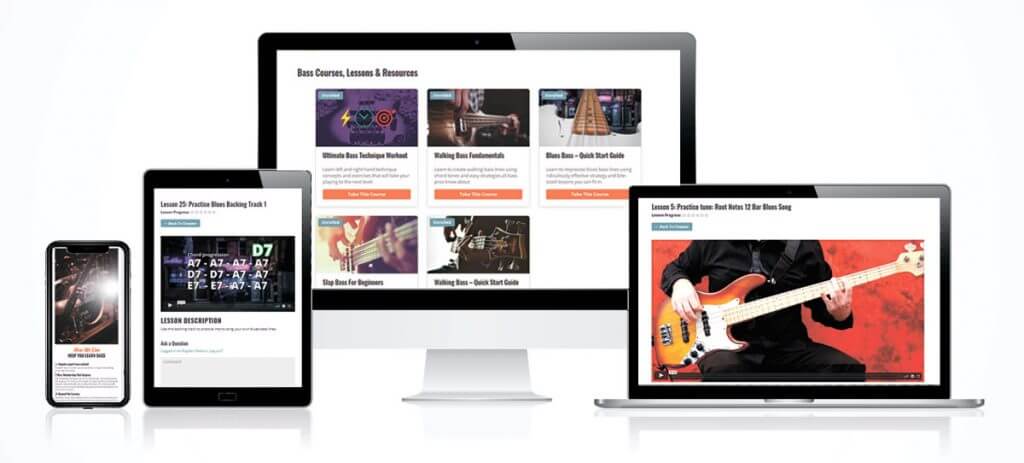 You can get a subscription to Bass Road Academy right from this site you're reading this very article on.
How to get this gift:
1. Go to this page.
2. Choose a subscription package (Monthly or Annual – as it's a gift annual is a better option!)
3. Enter the email address of the person you're gifting the subscription for (or just enter your own email address if you wanna keep it a surprise)
4. Make a payment using your own PayPal or CC details so that gift is officially from you 🙂
That's it! When the time comes, reveal your gift to the loved one by giving him login details for the site. He can always later on change his email/username for the learning platform etc so no worries about it.
Bass Road Academy is an online e-learning platform for bass players that features all the fun stuff: bass courses and engaging activities for bass players to expand their skill set.
Here are some gifts you should AVOID getting
New bass: this is a big no-no unless you bring him with you and tell him to pick one for himself (this kind of wife/girlfriend doesn't exist LOL). Note also that good basses are very expensive (think $600+). Other bass players will hate me for writing this LOL
Bass strap: although it feels like a perfect gift, you can go so wrong with this kind of gift as its very personal. He'll need to "wear" it, not you. The materials, designs, colors – oh man, it's almost impossible to choose. I'm a bass player and would never try to get this for someone. Just puts them in an awkward situation.
Picks: real bass players play with fingers LOL. Even if he plays with a pick, you'll never get it right which one to get due to all the variables involved such as pick thickness, etc. This can also feel like a cheapskate gift.
Pedals/amps/electronics: this is very tricky to get right due to a lot of "taste" involved. You can't just go out and buy anything here and hope he'll like it. Bass players buy this kind of gear very carefully with lots of testing and research involved prior to the purchase.
Alright ladies, your turn.
Will you get socks, jammies or perfume or something that says you really care?
If you haven't noticed, we bass players are very passionate about our hobby.
Although we might seem like grown men playing rock stars, we do take this thing seriously.
Believe it or not, playing bass means a lot to us.
So if you care, you'll go beyond trivial stuff for gift ideas and get something meaningful that we'll never forget.
I mean, it's hard to remember what I got even last year for Christmas, but boy I can tell you when and where I got each piece of my bass gear no matter how small or big it is.
I hope this article helps you get a creative gift this holiday season and to be honest, I'm just writing this for all the bass players out there to help increase their chances of getting something cool for bass for a change.
Good luck and happy holidays!
~ Bogdan
Join Bass Road
-
In-depth courses & training
  Challenging Bass Quests
Support From Instructors